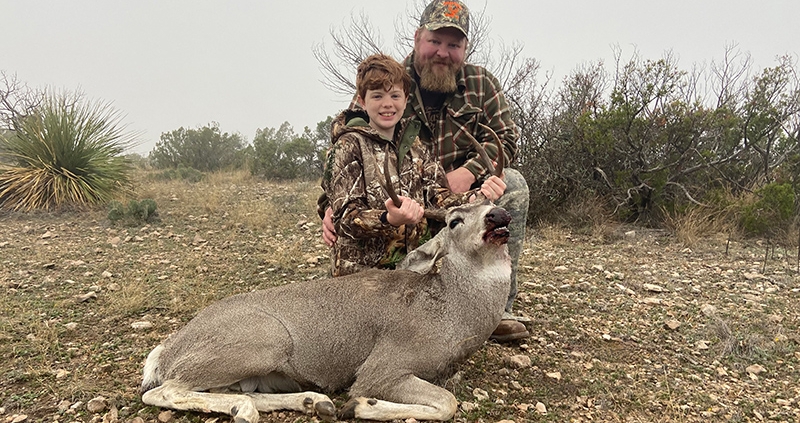 2022 Dream Hunt Recipient Shares his Story
The following is the story of our 2022 Dream Hunt written by the recipient in his own words. 
Hi, my name is Caine. I am 14 years old. I enjoy a lot of things like watching Star Wars or building with Legos. I was born with a Lymphatic Vascular Malformation. It is a rare disease that has also caused other issues with my body, such as a bleeding disorder and lymphedema in my left leg. I was diagnosed at 4 years old, and I have had almost 100 surgeries since then. At age eleven, I broke my hip and the doctor said I would not walk again. I really wanted to learn to walk so I could go hunting with my Dad when I turned twelve. It took almost two years, but I can now walk!
We moved to Iowa for my dad's job, and he started looking for a place to go hunting. That is how he got in touch with Heartland DSC. They worked with my Dad to plan a hunting trip that I could participate in.
My dad and I rode with Pat from Heartland DSC to Texas to start the trip. There was one funny moment on the way to Texas that I'll always remember. A bee flew into my dad's face. My dad said, "What the?! Get out of here bee!". It was hilarious.
While we were in Texas, we hunted on a ranch a little bit from town. The ranch owner's wife made us 3 meals every day. We had frog legs, alligator tail, and so much more delicious food. It was really fun to eat dinner while we all talked.
Pat also brought an Action Trackchair to the ranch. It looks like a wheelchair, but it is like a wheelchair crossed with a tank! It was super fun to ride around in. It really helps keep my lymphedema from swelling, because it's difficult for me to walk long distances on my leg.
At the start of the first hunting day, we woke up and got in the Ranger. We drove to a hunting blind and waited for a deer. We did this for 2 days. On the third day, an 8-point whitetail buck appeared. I had to get ready to shoot without making too much noise. I shot the buck. It kicked its legs and collapsed. I killed my first deer. I was shaking so hard, mostly from excitement. We then packed the buck into the back of the Ranger to go do some field dressing.
After I shot the buck, it was very intense. I didn't know if it went down, or if it didn't. It was very relieving to know that it went down without suffering. I was proud of myself during that experience. It was something I've wanted to attempt for a while, but I didn't think it was something I could physically achieve.
Over the next few days, I was able to shoot two more deer. One was a doe and the other a Mule Deer. I was more confident when I shot them after the first experience, and it was just as exciting as the first deer. It was really cool to see each of the deer up close.
This was the best trip I've ever been on. I will always remember getting my very first deer. I want to thank John Eason, Pat, and everyone at Heartland DSC for their hospitality. Going on this hunting trip was an experience I'll never forget.  I also want to thank Rhonda Eason for her delicious food, and Pat's wife for making me and my Dad sandwiches for the ride home. That really meant a lot to me.
Published December 2022
https://heartlanddsc.com/wp-content/uploads/2023/07/dream-hunt.jpg
436
800
Heartland DSC
https://heartlanddsc.com/wp-content/uploads/2018/08/Logo-with-Transparent-Background-300x162.png
Heartland DSC
2023-08-14 18:24:54
2023-08-19 15:29:19
2022 Dream Hunt Recipient Shares his Story